EQUIP II Project: The Fondation La main à la pâte organizes a training course in Sudan in the framework of the investigative approach in science teaching
Events
24/10/2022
Since June 2022, five international trainers from the Foundation La main à la pâte have implemented seven weeks of workshops in Khartoum, Sudan, where they have trained about 30 Sudanese master trainers in the inquiry-based approach to science teaching.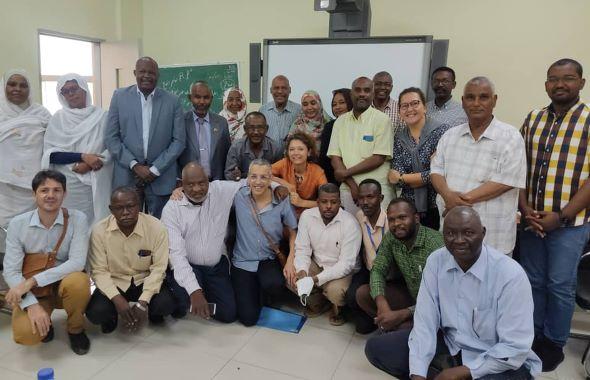 This initiative is part of the EQUIP II project, funded by the European Union and conducted in collaboration with the Sudanese people, France Education International and Expertise France. The main objective of the project is to strengthen the initial and in-service training of teachers in Sudan. 
Through the organization of activities in small groups, role playing and the elaboration of training guides, the main trainers are now the actors of the development of a more active pedagogy of science teaching in Sudan. Based on the principle of cascade training, they are now in charge of training other trainers who will themselves be in charge of training teachers. By the end of the project, 14,000 teachers in all disciplines will have been trained. 
International trainers Sophie Thuillier, Chiraz Kilani, Lotfi Lakehal-Ayat, Jérémy Castera and Christophe Vilagines, as well as national consultant Hisham Elsunni, will provide on-site and remote follow-up throughout the transmission of the investigative approach to the trainers and teachers involved in the project. A training workshop specifically focused on the evaluation of knowledge and skills will also be organized by Elena Pasquellini, in charge of Research and Evaluation at the Fondation La main à la pâte, to accompany the follow-up in class. 
Découvrez L@map, la plateforme de formation en ligne pour les professeurs du premier degré et du collège. 
En savoir plus