History of the international action
La main à la pâte has been active on the international scene since the early 2000s and its activities have evolved over the years, both in Europe and on other continents. The vision has always been the same: to share experiences with those who are committed to science education in the same way as La main à la pâte, in a spirit of reciprocity and mutual enrichment.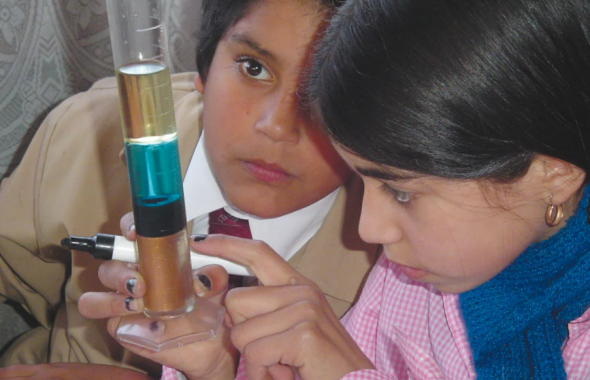 2000s : first European cooperation and projects
From the beginning of the 2000s, La main à la pâte has been approached by foreign partners, often through science academies, to share its experience.
Many European and emerging countries were making the same observation as in France : the disappearance of science and technology from the general culture, disaffection with scientific courses despite the growing importance of the knowledge economy, the "crisis of school" in its traditional forms, the continuing strong disparities between girls and boys in access to scientific careers (or at least to certain fields)...
The philosophy, methods and tools developed by La main à la pâte were then widely relayed with the support of French embassies and science academies. Meetings, seminars and conferences allowed for the exchange of issues and practices and the construction of a common vision. Training of trainers often takes over to give concrete expression to the contribution of La main à la pâte in the field.
In Europe, ambitious exchange projects and the formalisation of the pedagogies and systems developed are taking place in a context of growing awareness of the challenges of science teaching by the public authorities.
2010s : a wider opening to the world, thanks in particular to the annual International Seminar
Over the years, countries other than those initially interested in the La main à la pâte approach have taken up the issue of renovating science teaching.
They do so in particular through their participation in the annual international seminar of La main à la pâte which, since its first edition in 2010, has brought together every year about fifty managers and trainers from all continents. 
As a result, countries as diverse as Afghanistan, Tunisia, Lebanon, Cameroon, Pakistan, Vietnam, South Africa, Haiti, Venezuela, East Timor, etc. have seen the implementation of long-term projects.
Many of them are developing countries, whose problems and needs are quite different from those of the first partners : overcrowded classrooms, significant gaps in initial teacher training, difficult material conditions, etc.
Faced with their challenges, La main à la pâte is structuring its support more and more and is gradually developing more comprehensive expertise : needs analysis and strategic advice upstream of projects with ministries of education, training of trainers and reflection on teacher training and support systems, collaboration on the production of teaching resources adapted to the local context, etc.
For their part, the pioneers, particularly in Latin America (Brazil, Colombia, Chile, Mexico), Asia (China, Malaysia) and Europe, have rapidly appropriated the La main à la pâte approach and adapted it to their own context, developing their own expertise, which is now widely recognised and from which La main à la pâte benefits in turn.
International action today : ever greater synergies in the service of science education
Today, in keeping with the humanist vision that guides its cooperation activities, the Foundation focuses its support on developing countries, particularly in sub-Saharan Africa. 
It does so in close collaboration with other actors in educational cooperation: France Education International, the French Development Agency, Expertise France, the Agence universitaire de la francophonie, embassies, etc.
In this way, it puts its know-how and experience at the service of ambitious collective projects that pool the assets of each and everyone.
It is also doing so in a very ambitious way on the global issue of climate change education, through the Office for Climate Education, a foundation it created in 2018 with climate scientists.