The Foundation La main à la pâte
As a laboratory of ideas and innovative practices for nearly 30 years, the Fondation La main à la pâte is committed to working with teachers to improve the quality of science teaching in schools and middle-school. It offers teachers a wide range of interactive and multimedia classroom and training resources to promote a lively and inclusive science that is in tune with societal issues. It also coordinates local networks that support teachers in their area, as close as possible to their needs.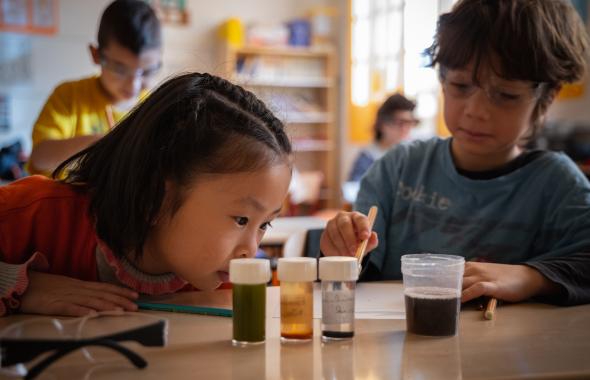 Created by the Académie des Sciences and the Écoles Normales Supérieures de Paris and de Lyon, the Foundation works alongside teachers and students to diversify educational approaches and pass on a taste for science.
Our mission
Give to students the pleasure of learning and exercising their reasoning
La main à la pâte's mission is to stimulate students' understanding of the world, their scientific and critical thinking and their ability to express themselves. The Foundation promotes active learning in science to stimulate the curiosity and imagination of all students, while helping them to acquire solid scientific knowledge and skills. It aims to share with them the pleasure of learning about science and technology by practising, experimenting, questioning and collaborating, through activities and projects designed specifically for this purpose. 
Supporting and training teachers
The Fondation La main à la pâte is primarily committed to teachers and their trainers, who are the primary actors in the field. It produces and provides them with free access classroom resources ready to use. It supports them in the appropriation and implementation of these resources and the scientific concepts addressed, by offering scientific and educational insights, as well as online or face-to-face training.
Federating an entire ecosystem dedicated to science teaching
La main à la pâte brings together an ecosystem from various backgrounds, both nationally and internationally. This inclusive approach is part of a logic of mutual enrichment and sharing of skills. In contact with science actors - researchers, engineers, technicians - and teachers, as well as numerous partners from the public and private sectors, the Foundation capitalises on the synergies thus created to offer an increasingly high-quality educational and scientific programme based on original science education projects in schools. For the Foundation, fostering partnerships between schools and civil society, and involving parents in their children's learning, contributes to rebuilding social ties in both urban and rural areas.
Our vision of science for schools and middle-school
We believe that science teaching in schools and colleges should be based on :
A living science, i.e. a realistic, attractive and contemporary science and technology, which highlights new knowledge, as close as possible to the scientific methods and practices that produce it. And which, in so doing, make it possible to develop a taste for science and its applications, and even vocations, so that pupils can move towards the scientific and technical professions of tomorrow.
Science for all, i.e. science that is rooted in the immediate environment of children and young people, their daily lives, but also in step with their own aptitudes and specific needs. And which, in this way, is meaningful for all and contributes to developing the intelligence, sensitivity and individual and collective fulfilment of all children in an inclusive approach. 
A science for living together, i.e. a science that is in touch with current social issues and questions (health, sustainable development, etc.), and that develops rational and critical thinking and rigour, which are part of the scientific approach, as well as the necessary aptitudes for argumentation, mutual respect and living together, all of which are decisive in the student's journey as a future citizen. 
Our ethics
Free of charge
All the resources developed by the Foundation are free of charge and published under the Creative Commons BY-NC-SA licence: attribution, no commercial use, sharing under the same conditions. Any teacher or trainer can thus take hold of the materials, adapt them, combine them, reformulate them as they wish. The only rule is to mention the origin of La main à la pâte and the authors, if applicable.
All training courses, whether remotely or face-to-face, organised by the Foundation or the networks, are also free of charge for teachers, even in the case of long courses, sometimes organised in residence.
Independence
In order to be able to produce free resources and training courses for teachers, the Foundation develops partnerships with a wide range of organisations, both public and private, including corporate foundations.
However, the Foundation retains total independence in the content it produces and only validates it on the basis of established scientific knowledge that is the subject of a consensus.