The International seminar
In order to respond to a growing international demand from new foreign partners, the Fondation La main à la pâte has been organising an International Seminar on Science and Technology Education in Compulsory Education every year since 2010. It is open to foreign trainers and managers who wish to discover its activities.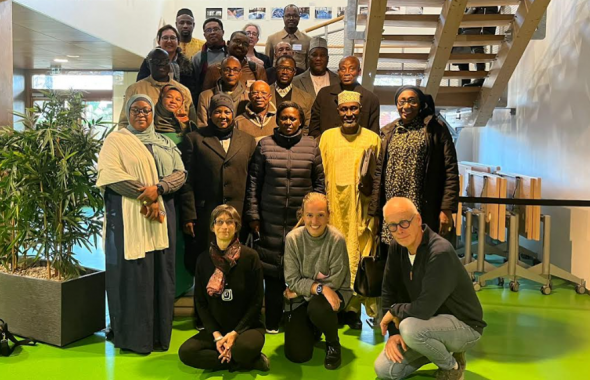 From 2010, in a context of strong growth in international demand for exchanges on La main à la pâte's actions, an International Seminar has been organised every year.
During the first nine editions, from 2010 to 2018, it enabled managers and trainers from countries outside the European Union to discover the methods, tools and systems developed by La main à la pâte. 
In this way, 450 people from 80 different countries have joined the international science teaching community. Many of them have, following their participation, developed actions in their country, sometimes with the help of volunteer trainers mobilised by La main à la pâte.
For the 10th edition in 2019, a turning point has been reached and the objectives of the International Seminar have been modified. Indeed, science teaching has become a central concern in programmes to improve the quality of education throughout the world, and particularly in developing countries. More than awareness-raising and discovery, countries now need spaces for exchange and co-training to deepen their reflection and practice and help them implement their projects.
In 2022, the International Seminar was organized in Paris by the Office for Climate Education, a foundation under the aegis of the Fondation La main à la pâte and Unesco. 
This seminar aimed to promote the development of climate change education in national school curricula by facilitating dialogue and collaboration between different countries and stakeholders (scientists, education officials, teachers, etc.).
This event is intended for about 50 decision-makers, teacher trainers and teachers from foreign education systems who wish to discover and become familiar with the latest trends, methodologies and tools in climate change education (CCE).
A thirteenth international seminar of the Fondation La main à la pâte was also held in December 2022 with the aim of bringing together the Foundation's international partners from ten African countries to exchange our practices and deepen our common reflection and cooperative actions around science teaching. This seminar allowed the partners to participate in different workshops, conferences and exchange time around science teaching and the implementation of the investigative approach in class. A particular focus was given to health, with the support of the Christophe and Rodolphe Merieux Foundation. 
> The highlights of the Foundation La main à la pâte's international seminar

With the support of :