Comoros: Strengthening the quality of science education in secondary schools
Implemented in Comoros since 2022, the Bundo la Malezi project aims to strengthen the quality of education for youth at the secondary level.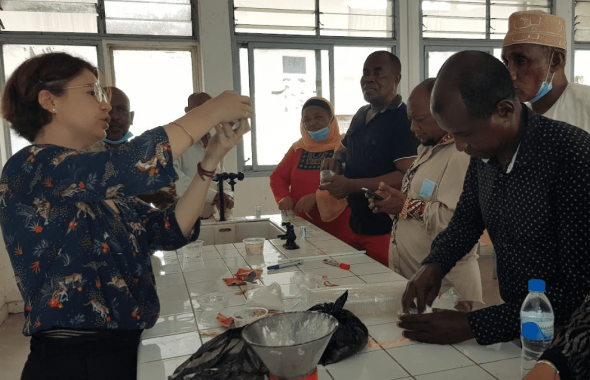 Objectives
The Foundation La main à la pâte has been involved in the Comoros since 2022 for the Bundo la Malezi project (Strengthening Education in the Comoros), financed by the French Development Agency and implemented by the Comorian Ministry of Education. This four-year project aims to strengthen the quality of education for Comorian youth in order to facilitate their economic and social integration. The project is divided into two components: the first aims to improve the quality of education and the second to strengthen the management of the Comorian education system. 
The Foundation La main à la pâte is specifically involved in the first component which gives particular importance to improving the quality of science teaching, through the reinforcement of experimental practice and active pedagogy within the science classes of 15 Comorian secondary schools and 3 high schools spread over the three islands of the country. 
Our action
The Foundation La main à la pâte is mobilizing expertise to conduct train-the-trainer sessions in sciences following the inquiry-based approach in science education. A first training session took place in February 2022, followed by a new session scheduled for November 2022. A remote follow-up of the implementation of the trainings with the teachers and an on-site follow-up mission are planned to ensure the proper integration of the new skills. A training module specifically focused on the theme of climate change will also be organized in 2023 by the Office for Climate Education. 
Two roadmaps on the production of pedagogical videos on the rehabilitation of science rooms in the project's secondary schools will be developed in partnership with the Comoros Ministry of Education.